This is the third installment of our employee introductions.  We are fortunate to have many incredible employees with diverse skills working in a broad range of manufacturing roles. Everyone committed to our goal of delivering products that meet industry standards while achieving, or exceeding customer expectations.
Let us introduce…
Pat Cain, Plant Manager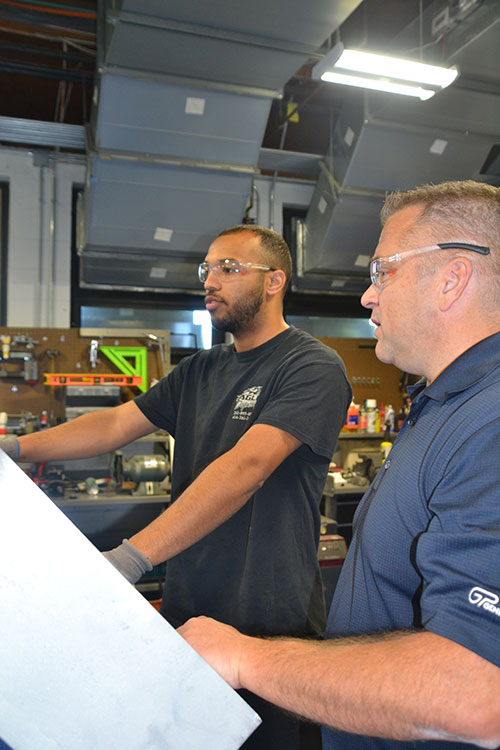 As plant manager, Pat oversees the company's operations and ensures customer needs are met.  He develops processes and systems, implements LEAN processes and continually looks for problems that must be solved.  Pat does not believe in getting comfortable and always looks forward for new growth opportunities.  He strives not only to deliver a good product that satisfies the customer but also to exceed their expectations.
Pat earned his undergraduate degree in Energy and Power from Illinois State University and his MBA from Wilkes University.  He got a Six Sigma black belt from WCTC and has worked as a project engineer, process engineer, plant engineer, technical manager and extrusion manager before joining General Plastics.
He came to General Plastics ten years ago, from a large manufacturing company.  He was searching for a place to work that would allow him and his wife to plant roots and raise a family. He knew he was looking for a smaller company, but not just any would do. Pat was looking for a company that wanted to grow and had strong commitment to safety, the environment and process improvement.  These were values he would not waiver on and in his search, he found General Plastics, a company that aligned very well with his personal and professional values.
Pat believes the most important thing for ensuring continued growth is for everyone to be engaged, involved in making their job and work area better and part of the continuous improvement process. In his observations, the most successful employees are active learners and have a basic curiosity.  They possess that fundamental need to know more and the desire to learn things at a deeper level. These are the people who will get to the root of a problem, learning how a mistake happened and what to do to fix it so they are not doomed to repeat it over-and-over.
Pat realizes that not everyone wants to work in manufacturing but those who do find that making a tangible product and seeing it in the community where they live is rewarding.  General Plastics' employees don't just make a widget that goes somewhere and has nothing to distinguish it from any other widget. Here, employees see the products they build every time they get in their car, go on a city bus, in stores, restaurants, gyms, or hospitals and feel proud of what they do, what they make, how it is used; it is a great feeling.
He is proud of the company's continued growth. The forecast for 2020 shows increases in new customers and products as well as the return of existing customers.  Pat attributes the continued growth and success of the company to one of the company's most important values, customer satisfaction. Today, after 10 years, Pat is proud to be part of a culture that aligns so well with his own personal and professional values.
For me, manufacturing is rewarding – it's tangible.  In fact, manufacturing is a catalyst in creating value.  If it goes away, our industry's value would decrease, we would lose control of our own destiny, and simply become distribution and sales.  – Pat Cain
Walter Meyer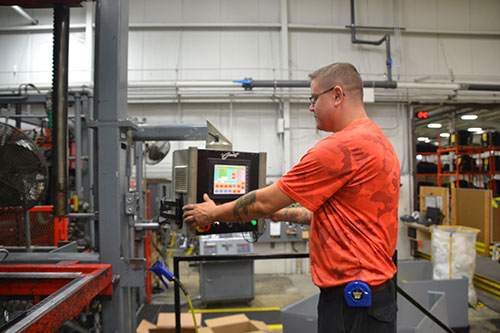 Walter Meyer does not like to get bored and it is a good thing because at General Plastics he is known throughout the plant as the person to call when help is needed. He admits his ability to rotate into areas as needed keeps him active, engaged, motivated and conscientious – he is never bored.
He began working at General Plastics about two and a half years ago and had 12 years of manufacturing experience prior to that. He started in the forming department but within about six weeks the material handler left, Walter had forklift experience, so he was able to fill in and immediately began learning about the flow of tools, materials and scrap. Then, when a materials handler came on board, he trained him and returned to forming.  Shortly after he returned to forming, he was told CNC needed some help, so he moved to CNC and got the chance to learn their policies, procedures and job. This on-the-job cross-training has allowed him to comfortably move from department to department, filling in as needed. He doesn't have a 'home' so to speak and he will say that if he worked in one department, he would not have had the opportunities he's had to learn and grow on the job.
Because of his plant-wide experience, he is often asked to mentor new and temporary employees.  Some of the most important lessons he tries to impart is for each of them to be consciousness and proud of the work they are doing, be aware of their surroundings and make sure they are safe.  He teaches them how to read the paperwork and do the job, including how to run the machine and the numbers to make everything match.  Walter enjoys the opportunity to have people shadow him because it is a way for him to teach them how to do things the right way.
Walter stresses the importance of keeping your workplace clean and safe.  For example, while he operates a machine, he takes every opportunity to clean up his work area. Without question, he is a strong proponent of being attentive to his workspace and always conscientious about the importance of a clean, organized and safe work area.
He will proudly tell you that he is everywhere and for that reason he is known and noticed by everyone.  However, he doesn't do what he does to be noticed. He does it because it is his nature to pay attention.  He is a spotter and sees everything.  The first thing he does every morning is walk around the shop, from CNC to forming. He looks at what's running and what the day looks like.  He is familiar with many parts and customers and when he sees a job that he knows had issues in the past, he pulls the paperwork and checks the computer to make sure everything is in order such as the right color, size, quantity of material, etc.  If he sees a problem, he talks to the appropriate people to make them aware. He believes it is everyone's job to be attentive to prevent mistakes, which are costly, wasteful, and lead to unsatisfied customers.
Walter likes being able to go where he is needed and grateful for opportunities, he's had to learn new things; appreciative of what he's done, where he's come from and how he got to where he is.
I am like VISA – I am everywhere!  It is my job to go where I'm needed, check the roster, look for and fix problems. The way I see it, if I see a mistake and don't do anything about it, it becomes my mistake because I had the ability to stop it and I didn't.
Dave Ryan, Lead in Production Assembly [First Shift]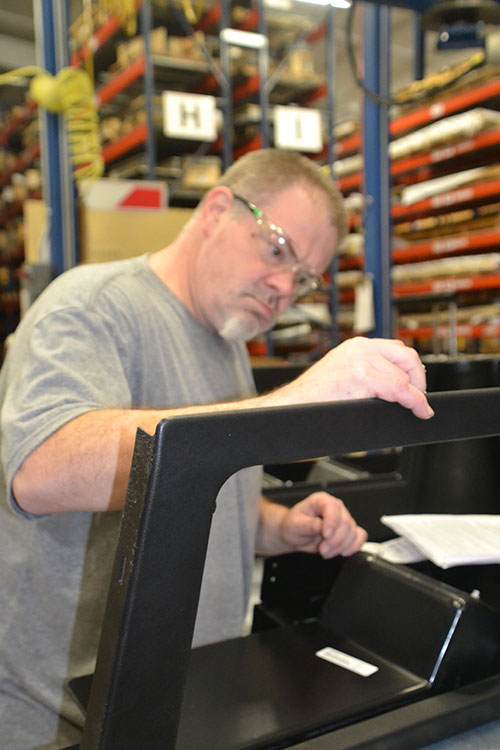 Dave was looking for a career change. He'd worked for a different manufacturing firm for 20 years and was looking for something different and exciting – General Plastics was a perfect fit.
Hired in July 2018 for his background in quality control and production management/supervision Dave stepped in and quickly got to work. He is enthusiastic and quick to tell you that assembly production is exciting. Dave enjoys working in plastics, particularly thermoforming. He finds it interesting from forming to CNC to assembly.  Production assembly is a unique area in the plant, where time flies and they are always busy; every day is different.  There are many custom-built parts that require him and his team to read drawings and figure out how to bond the parts while working with quality control throughout the process to get the parts approved.
As lead in production assembly, he teaches employees how to build parts and read drawings; skills some people might not have when they start.  He takes care of employees' time tickets, clocking in and out of jobs, their attendance, etc.  He is also in charge of his department's inventory and works closely with shipping to make sure the parts are getting there on a timely manner to meet the clients' demands.
Compared to other companies, according to Dave, General Plastics is not just concerned with quality control, it lives and breathes it every day.  He is also impressed with the company's recycling procedures.  Things are not just tossed out. Boxes and bags are reused, and recycling bins are located throughout the plant for paper, cans, glass and plastic bottles.  Scrap materials are cut down and re-extruded.
One of Dave's top priorities is to exhibit and teach good communication. For that reason, he is proud of the communication practiced in the assembly area.  From the simplest call-out like, "Hey, I'm walking behind you," to "I'm finished with this tool, if you need it, I've put it here." They also try to communicate well with shipping and other production areas to help ensure that things get done efficiently, correctly and on time. Dave believes that communication is the key to everything:  a successful marriage, relationship, job.  If a person doesn't have this fundamental human skill, he helps them develop it because poor communication all too often leads to problems at work and in life.
His commitment to instill good communication and pride in one's work is directly related to his personal values and the company's culture.  According to Dave, General Plastics' culture is instilled in everyone. The values are an integral part of its hiring practice. In fact, all employees, starting with the owner, Bob Porsche, work together sharing the same values for producing great products, achieving good customer relations and striving to always look ahead for ways to improve.  Employees are trained and given the tools to hit the ground running; no one needs to be micromanaged because the company sets its sights high and has good procedures and processes in place.
I tell my employees to own their work, take responsibility for what they do and be proud of what they are building.  I do not micromanage because I don't have to.  I have a team that knows how to communicate with one another and with other departments throughout the plant; they believe in the company they work for – it doesn't get better than that. – Dave Ryan