By: APICS Milwaukee Chapter
June 2019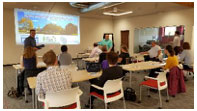 Wednesday June 12, the APICS Milwaukee Breakfast Roundtable Group toured General Plastics, Inc. (GP). GP is an ISO 9001:2015 and ISO 14001: 2015 certified, full-service custom plastic thermo-former located on the northside of Milwaukee.
Our tour focused on "Sustainability". GP is certified to the ISO 14001 Environmental Management System Standard and are part of the Green Master's Program in which they have attained "Green Professional" status.
Our host, Patrick Cain is the plant manager. He discussed with us their processes to keep their employees safe and engaged. Their sustainability program's goal is to develop programs that are profitable, sustainable and easily managed and monitored. He shared their environmental dashboard and how they track their progress in reducing electricity, water and gas consumption as well as reducing dumpster pick-ups.
GP has developed a "Best Practice" process of recycling plastic by color coding containers by type of plastic and placing that scrap in the color-coded container. This way they can ship back to their suppliers to use in more of their raw materials and get a higher price for their recycling.
There were also many ergonomic improvements that were implemented throughout the site including a vacuum pick up so one person instead of two can move heavy equipment and materials. They have also implemented adjustable tables for better ergonomic workspaces.

Thank you, GP, for your hospitality and support of the APICS Milwaukee Chapter!
Your APICS Milwaukee Chapter, with approximately 500 members, is a non-profit association with a mission to serve Supply Chain professionals and their companies in the Milwaukee area. We recently added our Fall instructor-led certification classes for CPIM, CSCP and CLTD! Check out our website for more information on how you can advance your career today!
If you are interested in hosting a tour at your company to showcase how you are addressing today's supply chain challenges, please contact us via our website at: http://apicsmilw.org or via email at: APICS-MILWAUKEE@APICSMILW.ORG.