This is the second installment of our employee introductions.  We are fortunate to have many incredible employees committed to our goal of delivering products that meet industry standards while achieving, or exceeding customer expectations.
Let us introduce…
Cathy Wiedmer, Customer Account Manager
In her role as a Customer Account Manager, Cathy is learning to manage one of our largest customers which includes evaluating their forecast and determining which parts need to be made, which parts can be combined using the same tool, and determining quantities needed based on the forecast.  Cathy also enters and manages "drop in" orders (orders inside the standard 3 week lead time), as well as other customers who purchase the same parts.  Several of these customers have stocking agreements with General Plastics and Cathy must monitor and maintain the right stocking levels.
Cathy has been with General Plastics since November 2018. She brings experience from past roles:  Customer Service Representative; International Customer Service Representative; Distribution Coordinator, Engineering Coordinator; Systems Process Administrator and Shipping Manager. Cathy feels her experiences from Customer Service Representative to a Distribution Coordinator and a Shipping Manager completes the circle and has provided her with a broad understanding of manufacturing processes to achieve customer satisfaction.
In her career she has served on ISO and audit teams and committees and says that, while you can be hired to do one job, depending on your interests, other skill sets and willingness to participate, you can contribute and learn while becoming more involved in a company.  Currently, Cathy is concentrating on getting acclimated and becoming more knowledgeable with the processes in place for her role as Customer Account Manager but hopes to participate on committees and special projects in the future.  She believes this sort of involvement is a good way to meet people and become more engaged in the company.
The best part of Cathy's job is helping the customer get what they want when they want it, and that sometimes means the same day.  She finds it gratifying to be part of the team that fills that need.
This is a good company to work for.  Everyone wants the same thing – to do their best job every day – whatever that looks like. And the goal, in all our minds, is to achieve customer satisfaction – whatever it takes.
Jason Bartelt, Program Director
As a Program Director, Jason launches all the new product orders. Upon receiving the files from the customer, he reviews them to make sure the part can be made according to the customer's specifications. Jason works very closely with the customer's engineering and design groups and makes suggestions and design changes based on our process while still maintaining the customer's part concept.
Jason has worked in the manufacturing industry for 31 years starting out in the shop, working his way up. As a result, he's done pretty much everything that was needed while gaining a familiarity of nearly all departments.  There are many aspects, departments and people involved in the launch of a new product and with Jason's background he understands what is needed and how to take it through the proper channels. For example: if there is assembly involved it will need to include forming the parts and essentially coordinating all departments throughout the shop; if tooling is needed it has to be reviewed by the tooling department, and then scheduled through forming, trimming, programming and quality control for start-up approvals and then shipping.
Just recently the company completed a product launch for a large coach builder.  This involved building more than 70 new tools over an eight-month period.  He believes it was the largest new product launch in the history of General Plastics.  Most of the new products involved assemblies so Jason worked with production, programming, fixturing and assembly to complete the product launch of each tool.  It was quite the undertaking and Jason handled it without missing a beat.
Jason has been with General Plastics for five and a half years and in that time, he has enjoyed watching it grow.  Over the years, he as seen changes made to improve processes and systems, the workflow, new equipment and technology purchases, etc. – all for the sake of making the company the best it can be. As impressive as the attention to constant improvement is, the owner and management are as attentive to being involved in the company, the employees and the community. Pointing to the many awards such as the 2018 Wisconsin Association of School Boards Business Honor Roll (WASB); the 2017 and 2018 Thermoformer of the Year; the 2014 and 2016 Manufacturer of the Year, 2016 and 2017 Milwaukee's Future 50 Program award, the 2017 Sustainability Business Process Award from Wisconsin Business Council and more – Jason makes his point – all speak volumes about a small company such as General Plastics committed to the industry and community.
The thing Jason likes best in his position is seeing the customers' initial concepts work their way through the process to becoming a reality, an actual working part.
Sometimes an order comes in that seems impossible and we initially feel overwhelmed and stressed but then we shake it off and get to work.  We realize that we are here to provide a product for the customer and if we can't do it in their timeframe then we fail and if we fail, they will find someone who will get it done.  When we all pull together, work through the order and meet our customers' needs, I feel like I did my job the way I was supposed to; I think we all feel that way.
Dan Mathieu, Logistics Coordinator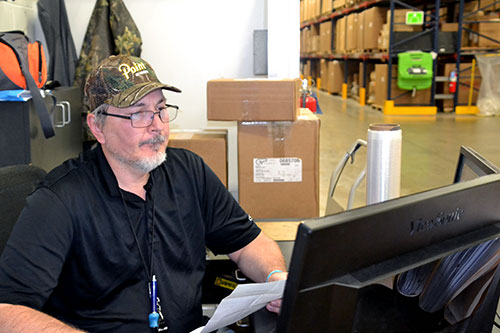 As a Logistics Coordinator Dan coordinates some of the trucks and handles receiving for incoming product.   Dan also manages our recycle/trim program and works with suppliers to return trim scrap so it can be put back into sheet form.  It takes a lot of coordination to keep everything separate, clean and organized and sent back to the correct suppliers depending on materials.
While he has some college, his studies were not geared toward shipping and receiving and has learned his job mostly from what he's done on the job.  Daniel came to the company 11 years ago and has enjoyed watching it grow. He has seen an increase in the number and types of products they are building and more employees.  There is also new and added equipment such as forklifts, rotary machines, CNCs including a robot CNC.  In addition, the computer systems are consistently being upgraded.
To do Dan's job a person needs computer knowledge, forklift driving skills, a willingness to make sure things get done, have attention to detail and be goal oriented.  He would add that it is important to show up to make sure the job gets done; he can count on two hands the number of times he has been absent during his 11 years at General Plastics. He started out as a Shipping Clerk, then an Assembly Coordinator and now he is the Logistics Coordinator.  According to Daniel, people who want to advance in their position can do so at General Plastics, he is a perfect example.
When he left his former company, he noticed how family-oriented General Plastics was and continues to be.  It is not uncommon for employees to see the owner on the floor just saying hi and asking how they're doing; management is on the floor on a regular basis too.  They are friendly and take good care of their employees, offering good benefits including a bonus program and a 401K.
Dan likes working here, and especially enjoys the individuals he works with…
I know I can trust them to get the job done without standing over them to make sure they're doing it right; we all work together, which makes it less stressful for me and for them – we are a team.