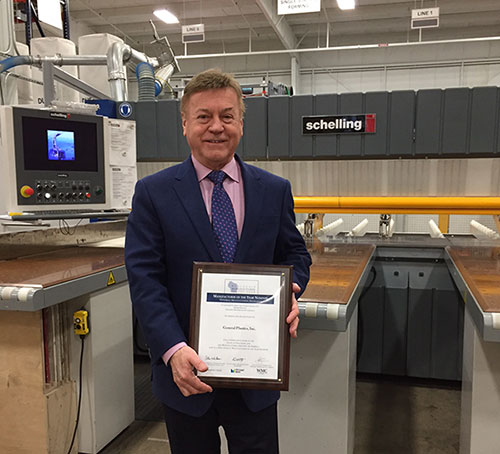 With a culture strategically focused on investing in innovation, sustainability and growth, it should come as no surprise that General Plastics has earned some recognition. In 2016 the company earned the following awards.
2016 AND 2017 Milwaukee's Future 50 Program award. This was the second consecutive year that General Plastics also earned this award.
2017 Sustainability Business Process Award from Wisconsin Business Council. According to the Wisconsin Business Council, sustainable businesses are constantly seeking ways to run more efficiently and reduce costs associated with producing their product or service.  Whether the focus is on energy efficiency, materials efficiency, or employee productivity, process improvements can create triple bottom line benefits.
2016 Manufacturer of the Year the Wisconsin Manufacturer of the Year Award celebrates the successes of manufacturers in the state: their innovations, philanthropy, technological advances, commitment to customer satisfaction, and quality jobs.
2016 Plastics News Processor of the Year Candidates for this award are evaluated on seven criteria: financial performance, quality, customer relations, employee relations, environmental performance, industry/public service and technological innovation.
2017 Plastics Inc. of Milwaukee names Thermoformer of the Year Robert Porsche was awarded the Plastics Inc. of Milwaukee's Society of Plastics Engineers the Thermorfermer of the Year. Porsche has been active in the Thermoforming Division for many years. He is the chair of the finance committee; co-chaired two Thermoforming Conferences (including last year's) and his company supports the parts competition. He is a prior winner of the Division of Outstanding Achievement Award and has served as a speaker and moderator on heavy-gauge technical sessions. "Bob's leadership in a variety of roles has contributed greatly to the division's success," said Bret Joslyn, chairman of the SPE Thermoforming Division.
2017 Central City Business Award General Plastics was awarded Small Company category. During the awards ceremony it was said, "By investing in General Plastics Inc., owner Bob Porsche also has invested in his employees' futures and the future of manufacturing." The Central City Business Awards salute the spirit of entrepreneurship, growth and optimism for the future. The award is in recognition of entrepreneurs and commercial enterprises whose contributions toward growth, expansion and prosperity are making a difference in Milwaukee's central city.