General Plastics, Inc. is a premier manufacturer and supplier of thermoformed plastic components, offering pressure thermoforming, vacuum thermoforming, trimming and assembly value-added services.
Thermoforming is a method of processing cast or extruded plastic sheet into finished parts up to 0.500 inches thick.  The raw material is heated to its specific thermoforming temperature and immediately shaped to the desired configuration.  At processing temperatures, the material is very pliable, enabling it to be formed rapidly into exceptionally detailed components with a minimum of force.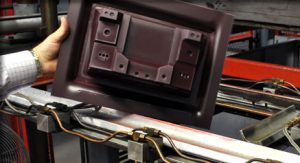 Pressure is the key in forming the final parts.  That pressure can be either positive (pressure forming), or negative (vacuum forming), and is maintained until the part has cooled.  The processes can be utilized to mold a single part per cycle, or multiples/families of smaller parts per cycle.
Thermoforming is a single sided process with only one side of the sheet controlled by the tool surface. The best uses for thermoforming is when production quantities range from 250 to 5000 annually.  This process offers lower tooling costs, faster product development cycles, and can produce parts with color and texture.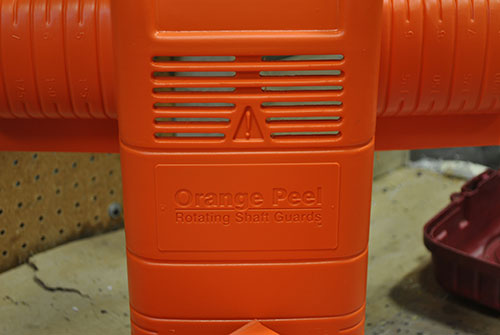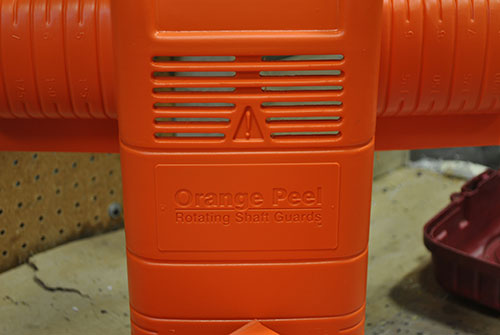 Advantages of Thermoforming
Thermoforming tooling costs less in comparison to injection molding.
Prototype tooling using cost effective molds.
Thermoforming tooling is faster to produce – 6-8 weeks -vs- 12-20 weeks – which means your product is quicker to market.
Overall cost of a thermoformed part when tooling is amortized and may be significantly less over time.
Tooling is more adaptable to design changes. There is little to no maintenance on tooling and it does not wear out.
Thermoforming could maintain dimensional tolerances for part sizes as expansive as 6' x 10'
There is less molded in stress and the end-product will not experience knit lines or sink marks (in a thermoformed part). This means that in many cases the aesthetics of a pressure formed part will exceed an injection molded part.
An etched texture in a pressure form tool will yield aesthetics challenging injection molding.
Allows shipments to be conveniently scheduled to reduce inventory.
Plastic injection molding can be used to make plastic parts for similar applications. Injection molding has a very high tooling cost, but for large quantities, the cost per part is less. Here are some points to consider in making your Injection Molding -vs- Thermoforming decisions.
Thermoforming is a single wall construction
Attachment points such as bosses and/or inserts must be done secondarily in thermoforming since it is a one-sided tooling process whereas injection molding these details are molded into the product.
It may be more cost effective to bond a metal bracket, which can act as a stiffener as well as an attachment point.
Thermoforming will yield a part with variable wall thickness which is based on part geometry as well as processing techniques. Another benefit of this feature is the part weight may be less, which means it is less costly to ship.
General Plastics, Inc. is your full-service thermoforming solution with more than 30 years of experience with expertise in the following applications:
Pressure forming (6' x 10')
Vacuum forming (6' x 10')
CNC & Robotic trimming
Full assembly and sourcing
Packaging and kitting
Prototype and production tooling
DFMA assistance
Design freedom for undercuts, texture and color
To discuss your Thermoforming needs, call General Plastics, 414-727-6855; Toll Free: (888) 611-0270 or email us sales@genplas.com.